SUPERMAN IN CHICAGO BULLS




Text by: José Manuel Serrano Esparza




On April 20th 1986 took place one of the most incredible events in the history of NBA, the best basketball league in the world. In a press conference after the match, held on the quoted date, between Boston Celtics (which would win the Championship ring that year) and Chicago Bulls, Larry Bird, top star of Boston Celtics and the best player in the world at around that time, stated: ´God has disguised Himself as a basketball player tonight!´.


This sentence transcending the Aristotelian metaphysics, conferred exceptional qualities to Michael Jordan, that had just smashed them with 63 points! In the Boston Garden, the most legendary and dreaded basketball court for rival teams in the best league on earth.
He alone had managed to knock down the whole de luxe starting lineup of Boston Celtics: Dennis Johnson, Danny Ainge, Larry Bird, Kevin McHale and Robert Parish, besides Bill Walton, a historic center elected best sixth man of the year in 1986.

It had never seen at NBA cathedral such a display of brutal speed, impressive pace changes, wild decelerations, physical endurance, perseverance, colossal jumping ability unknown to then, resolution, leaping shots in incredible foreshortenings, stratospheric slam dunks defying gravity laws, etc.

That night nobody could stop Jordan, well assisted by Orlando Woolridge and John Paxon.
Everything started when in 1982 USA NCAA Final Game between North Caroline and Georgetown, Michael Jordan made himself known to the world and gained celebrity on scoring the victory two points jumping shot with only 17 seconds to the end of the match, giving the title to the Tar Heels (with the great Dean Smith as a head coach) facing the Hoyas.




After being chosen NCAA best player for two consecutive tears, he decided to enter the NBA, being selected by Chicago Bulls with number 3 in the 1985 draft.


Previously, he had already been Olympic Champion in 1984 in Los Angeles in a team crowded with stars (Sam Perkins, Steve Alford, Wayman Tisdale, Pat Ewing, Alvin Robertson, etc) under the orders of the mythic head coach Bobby Knight, who conveyed the USA team a tremendous defense above all.




Since 1987, for many pundits Jordan was the best player in the world, together with Magic Johnson and Larry Bird, but it wasn´t till 1990-91 season when he was able to conquer his first ring as a NBA champion.



It must be underlined that Michael Jordan, unanimously considered the best basketball player of all time (Champion of the NCAA in 1985, double Olympic Champion in Los Angeles 84 and Barcelona 92 and six times NBA Champion in the seasons
1990-91, 1991-92, 1992-93, 1995-96, 1997-98 and unstoppable attacking talent with very uncommon defense skills, holding the NBA record of nine elections for the best 5 defensive starting lineup.
Ha was named eleven times for the All Star Game, winning thrice the MVP trophy of this annual ,atch between the NBA stars in 1988, 1996 and 1998 and he has undoubtedly been the most lethal and unstoppable scorer in history, being a lot of times the NBA Top Scorer, usually with averages far ahead of 30 points per game and very frequently exceeding 40 and 50 points per game, mainly in playoffs and Final Series!.

But it was in the 1988 East-West game when Michael Jordan became the world astonished with an amazing performance at the Chicago Stadium, with a final card of 40 points, 8 rebounds, three assists, 4 stealths and 4 block-shots, without forgetting his spectacular victory in the Slam Dunk Trophy, where he displayed his marvellous athletic gifts with several slam dunks in which sometimes he had to bend his head in order not to hit the hoop with it! That day, Jordan literally flew and the apotheosis came when Michael took his stand on the other extreme of the arena and stared at the hoop in the distance. Everybody knew something great was gonna happen and it was that way. He ran all the court at full speed and with a brutal jump still unexplainable for science, leaping from behind the free shots line!!!, after a long and rather high flight he strongly smashed the hoop. The tenets by Isaac Newton and Albert Einstein weren´t in effect any longer. At last, man could fly.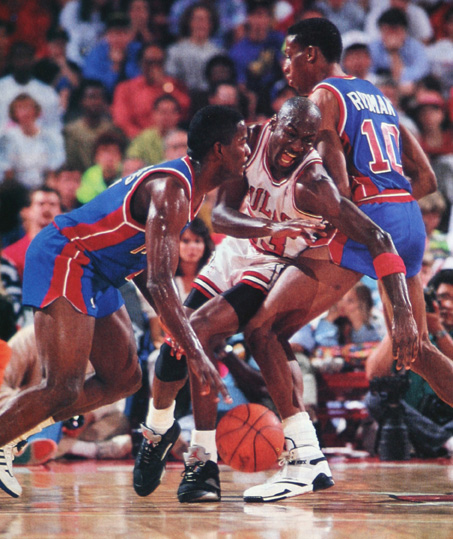 Meanwhile, in the bleachers, Julius Erving, Dr J, Basketball Honoris causa Doctor, was really dazzled and aroused enough burst into applause. His successor had arrived.

But until winning his first NBA ring, the road for Jordan was hard, very hard.
First of all, he was forced to wait for the 87-88 season to receive the reinforcement of two top-notch rookies: Scottie Pippen (an extraordinary and very protean forward, sensational attacker and very good defender) and Horace Grant (a very tough rebounder and block-shot specialist).

In the initial stage in Chicago Bulls, under the head coach Stan Albeck, Jordan had been compelled to play almost by himself trying to resolve the matches alone, because of the lack of strength both in the starting lineup and bench depth. Now, the things were changing and the new coach Phil Jackson (joined in 1988 and 1973 NBA Champion with New York Knicks and an impressive Bill Bradley) was conveying the team a group mentality, always with Michael Jordan as the axis, but increasingly with more participation of the rest of the franchise players: B.J.Armstrong , the quoted Pippen and Grant, Stacy King, Cliff Levingston, Scott Williams, John Paxon, Wilt Perdue, Bill Cartwright, etc.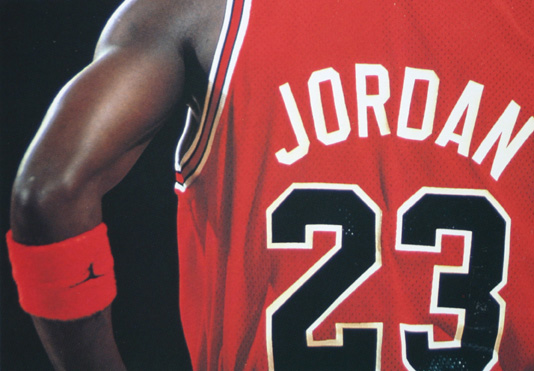 At the end of eighties decade, the biggest hindrance for Chicago Bulls were the Detroit Pistons, that wiped them out in the Eastern Conference Semifinals during 1988-89 and 1989-90 seasons, in some games to the death, in which the greater bench depth of the ´ Bad Boys ´ was finally decisive (being able to put on stage almost two dreaming lineups with players as Isiah Thomas, Joe Dumars, Adrian Dantley, Mark Aguirre, ´ Microwave´ Vinnie Johnson, Dennis Rodman, Bill Laimbeer, John Salley, Ricky Mahorn and James Edwards) and above all its extraordinary to the limit defense, literally to exhaustion, drawn by its head coach Chuck Daly, with Dennis Rodman (the best defender in the world), Joe Dumars and Bill Laimbeer as its epicentre.

It was in 1990-91 season when Chicago Bulls got its first NBA ring against Los Angeles Lakers, with prodigious performances, specially by Jordan, Pippen and Grant, but with a great collective play and above all with a superb defensive attitude in which the belly-to-belly defense of Scottie Pippen on Magic Johnson highlighted.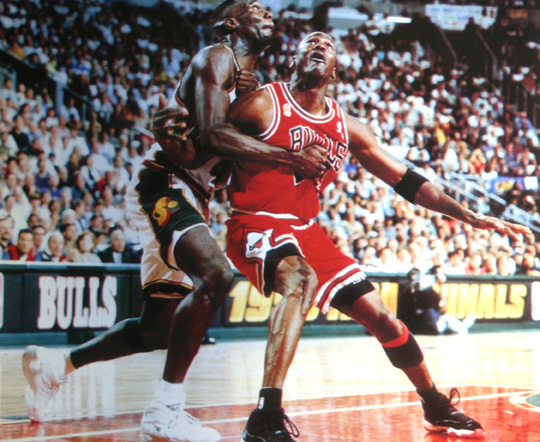 Later on, in 1992, the second NBA trophy would come against Portland Trail Blazers. Clyde Drexler, Jerome Kersey, Kevin Duckworth, Buck Williams, Terry Porter, etc, could do nothing facing the Chicago cyclone.


The three-in-a-row NBA Championship for Chicago would arrive in 1993 vs Phoenix Suns, featuring Charles Barkley, Kevin Johnson, Tom Chambers and Dan Majerle as main stars.

Now, it wasn´t Michael Jordan against the world as in the middle and end eighties, very strong and speedy onslaughts toward the basket and dunking ´ in your face ´ against the top centers of NBA (Kareem Abdul Jabbar, Akeem Olajuwon, Pat Ewing, Bill Laimbeer, Artis Gilmore, etc) or making devastating block-shots on them. Jordan had also become into an extraordinary middle and long distance jumping shooter, besides a gorgeous passer and his anticipating defense was gaining momentum.

The last match was held at Phoenix West Arena, with a final three pointer by John Paxon with 3.9 seconds remaining, giving the NBA Championship to Chicago.
In 1994 and 1995 there was Michael Jordan´s withdrawal, two NBA rings for Houston Rockets, with unstoppable Hakeem Olajuwon and Clyde Drexler) and the bursting in of Shaquille O´Neal in Orlando Magic, team which would defeat Chicago, above all due to its lack of quality and resolutive centers both in attack and defensively able to face Shaq Attack.


This way, Phil Jackson and Jerry Krause (Chicago Bulls General Manager), with the team support, took the decision to contract Dennis Rodman, Best NBA Defensive Player and top rebounder in the Tournament, besides the Aussie center Luc Longley and the great shooter point guard Steve Kerr. If we add to it the arrival of the Croatian player Toni Kukoc, an extraordinary 2,07 m forward, endowed with a formidable individual technique, speed, long distance shooting and probably the best European player at that time with Jugoplastika of Split, we were witnessing the birth of Michael Jordan and Chicago Bulls second glorious stage, with another saga of three consecutive NBA rings in 1996 (facing Seattle Supersonics), 1997 and 1998 (vs Utah Jazz), triennium in which he would achieve other incredible milestones as his triple double (unmatched in history) in the 1997 All Star in Cleveland, with 14 points, 11 rebounds and 11 assists.


The happy end to the sport life of Michael Jordan was the extraordinary basket he scored in the sixth game of 1999 NBA Finals vs Utah Jazz, by means of an inspired play in which he stole the ball from Karl Malone, crossed the court with it controlled and through a basket penetration feign and tremendous deceleration, threw off balance the defense by Byron Russell, scoring a two points jumper, awarding him his sixth crown.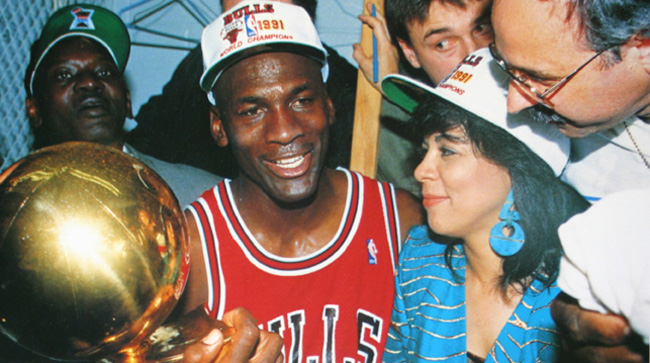 © Copyright Text: José Manuel Serrano Esparza