THE SUPREME MERGING
PHOTOGRAPHIC CAMERA AND
SUPER WIDEANGLE





By: José Manuel Serrano Esparza

Impressive front image of the Hasselblad 903 SWC with the Carl Zeiss Biogon 38 mm f/4.5 lens, shade and SWC viewfinder on top area.
The Hasselblad 903 SWC, introduced in 1988, is evolutively linked up to the Hasselblad Super Wide Camera concept, started in 1954, when during the Photokina Köln World Fair of Photography held that year, the Swedish concern presented the Hasselblad Supreme Wide Angle, a revolutionary 6 x 6 cm medium format camera, with an extraordinary Zeiss Biogon 38 mm f/4.5 fixed lens (permanently mounted on the camera body and equivalent to a 21 mm lens in 35 mm format), 90º diagonal image angle, practically total absence of distortion, extraordinary sharpness from corner to corner (even at wide aperture and at all distances), lesser loss of transmitted light than in the prime standard lenses and a minimum focusing distance of 30 cm.


The repercussion was tremendous, and since then, the basical design has remained greatly unmodified in the different later versions, becoming into the world reference of medium format quality for photography of architecture, industry, indoors, archaeology and even reproductions, although its great versatility makes it a camera suitable for a lot of other tasks, being able to achieve fantastic results that are currently only slightly beaten by the cream of the crop of Rolls-Royce super wideangles for large format made by Schneider-Kreuznach and Rodenstock, specially for 4 x 5´ cameras equipped with perspective correction.
BRILLIANT OPTICAL IDEA


The Hasselblad 903 SWC, in the same way as all of its previous models, is a camera created to hold its life epicentre: the extraordinary Carl Zeiss Biogon f/4.5 lens (an excellent abbreviated eight elements version from the original 10 elements design), a true non retrofocus great angle, in which the distance between the rear element and the film plane is very scarce, thereby a fabulous optical quality, practically 0 distortion and an excellent sharpness are attained. A 100% rectilinear lens, and a desire object for a lot of professional photographers.


Therefore, the Hasselblad 903 SWC takes advantages of the virtues of one of the best optical designs in all the history of photography.


As a matter of fact, the Biogon design, invented by the inspired mythical German optician Ludwig Bertele in 1934 for the coverage of the 35 mm film format, had been the worldly quality reference since 1936 - the year of its launching to the market- combined with the legendary 35 mm Contax rangefinders, and it had also been applied in large format cameras for aerophotogrammetry and topographic aerial reconnaissance equipped with the fabled Zeiss Topogon (created by Ludwig Bertele at the beginning of thirties from which there was a wondrous Zeiss Topogon 25 mm f/4.5 version with a 82º coverage angle, manufactured in very few units for the 35 mm Contax rangefinders) and Zeiss Aviogon (also designed by Ludwig Bertele at the beginning of the fifties) super high quality resolution, derived from the Biogon and provided with excellent Carl Zeiss coating and new ultramodern optical glasses developed by the Schott factory.


On the other hand, the gorgeous Zeiss Biogon 21 mm f/4.5 lens for 35 mm Zeiss Ikon Contax rangefinders had been around.


Besides, the optical fundamentals of the Biogon design were already utterly consolidated, since the out of this world Dr Bertele had introduced in this super wideangle a new optical concept, achieving to increase the entrance pupil of the lens in consonance with the great angle of image, which brought about an incredibly even field illumination of all the frame.


And if it wasn´t enough, the maximum aperture of the Biogon was much bigger than in the rest of few existing extreme wideangles, whose maximum f stop was f/6.8 or even less.
| | |
| --- | --- |
| | The Hasselblad wideangle photography has got its roots in some of the best optical designs in the history of world photography. |
A DREAM COME TRUE


But was Hans Sauer, another inspired German optician, former assistant of Ernst Wandersleb (Optical Designing Chief at Carl Zeiss Jena before Second World War) who adapted the Biogon optical formula to a 6 x 6 cm medium format 38 mm lens (equivalent to a 21 mm in 35 mm format) and maximum aperture of f/4.5.


Hans Sauer, who went to Oberkochen after the Second World War, had already a huge experience facing difficult challenges and extreme designs, because among many other attainments, at the end of thirties he recalculated at Jena the 1896 excellent original symmetric 6 elements Planar by Paul Rudolph (Zeiss), designing a new 5 elements Planar with innovative optical coating which greatly solved the excessive tendency to flare of the excellent original Planar, though undoubtedly his masterpiece was the Carl Zeiss Biogon 38 mm f/4.5 for the different diachronic models of Hasselblad Super Wideangle Cameras.


This way, the Biogon design of the Hasselblad 903 SWC lens is actually nothing less than a superlative quality lens for aerophotogrammetry adapted to a medium format camera, with which a fairly high resolution of 200 lines/mm is achieved to capture the finest details, a high contrast to make up for the atmospheric fog, practically non existent distortion to assure the geometric fidelity in the image, a very wide coverage angle allowing to capture big spaces in all their width and sumptuosity, a very even illumination on all the frame surface so as to obtain a superb resolution from corner to corner and a maximum lens aperture allowing fast enough shutter speeds to avoid shaking.


The Zeiss Biogon 38 mm f/4.5 stands out among a lot of other parameters because of its extraordinary depth of field - encompassing from 3 meters to infinite at full aperture, from 1, 2 m to infinite at f/11, and from 66 cm to infinite at f/22- and because of its uncommon capacity to capture light, fairly beautiful contrast and very wide tonal range.
Historically, the original Zeiss Biogon 38 mm f/4.5 lenses manufactured from fifties, included lead and arsenic in some of their optical elements, but from 1972 on, the legendary high quality Carl Zeiss T* multicoatings were being added, so a better colour saturation was achieved - also being increased the resistance to flare and ghosting, with more brilliant and vivid images- and the year 2001 saw the premiere of the generation of Zeiss Biogon 38 mm f/4.5 Cfi lenses, provided with new types of optical ´eco-glasses´ (to replace the classic glasses containing lead), a new Cfi shutter with extremely durable NIVAROX main spring and special lubricants (as molybdenum disulfide, tefflon and very expensive synthetic oils stemming from the industry of Swiss watchs manufactures) very resistant to aging and sticking.


Besides, the generation of Zeiss Biogon 38 mm f/4.5 Cfi features a new focusing helicoids with low torque and modern technology of absorption of stray light, contributing to better even still more the image quality, achieving more vivid pictures and a working life more prolonged than the previous versions of Zeiss Biogon for Hasselblad.
| | |
| --- | --- |
| | Semilateral front view of the Hasselblad Super Wide C. The marvellous chroming of the Carl Zeiss Biogon 38 mm f/4.5, typical in the first versions, stands out. |
| | |
| --- | --- |
| Semilateral rear view of the Hasselblad Super Wide C. Once more, both the exceptional beauty of the chroming and the scales of apertures and shutter speeds are dazzling. | |
ELITE MECHANICAL MANUFACTURE


In the same way as happens with every Hasselblad, the 903 SWC, available in chromed or black versions, is utterly made of metal, with a formidable cast aluminum alloy of very high quality.


But furthermore, the Hasselblad 903 SWC is a design focused on the maximum level of feasible quality from the optical/mechanical standpoint, so there aren´t in it any automatic aperture priority mode, meter, interchangeable lenses, motor, CPUS or extensive electronic circuitry.


Evidently, it´s very classic, simple and elegant at the same time, a tool for purists, but having proved a reputable effectiveness and reliability to successfully fulfil a fairly wide range of photographic tasks, being able to get exceptional quality results, since the lack of mirror greatly assures a vibrationless shutter release.


It weighs 1340 g - very restrained for a medium format camera- with the fixed Carl Zeiss Biogon 38 mm f/4.5 lens, the SWC viewfinder and the A-12 chassis, which makes the handling of the camera rather convenient, even in handheld shots, though logically, the best results are obtained with the camera placed on a sturdy tripod and using the optical viewfinder with bubble level which eases the correct horizontal placing of the camera.


On the other hand, the Carl Zeiss Biogon 38 mm f/4.5 lens has diachronically been equipped in its inner area with the classical and excellent Synchro-Compur shutter, synchronizing with the flash at all speeds up to 1/500 seg, but in 1986 the Zeiss Biogon 38 mm f/4.5 was provided with a new high end Prontor shutter, sporting a very robust design, bigger capacity of cycles and less lengthy working.
| | |
| --- | --- |
| | Spectacular image of the Hasselblad SWC/M in black colour, without any film back on its back, with the external viewfinder attached and the majestic Carl Zeiss Biogon 38 mm f/4.5 on its front part. |
| | |
| --- | --- |
| Semilateral rear view of the Hasselblad SWC/M. | |
VERSIONS


Since 1954, the year of its introduction, different versions of this mythical camera have appeared:
1 Hasselblad Super Wide
2 Hasselblad Super Wide C
3 Hasselblad SWC/M
4 Hasselblad SWC/M CF Version
5 Hasselblad 903 SWC
6 Hasselblad 905 SWC
FULL COMPATIBILITY WITH THE HASSELBLAD SYSTEM


The Hasselblad 903 SWC is compatible with every optional Hasselblad film backs and focusing screen adapters, which allows to use any Hasselblad finder.
CONCLUSION


With the modern optical designs helped by very powerful computers, specific top quality softwares and the use of molded aspherical elements, the retrofocus designed super wideangles have approached very much to the level of the true super wideangles, regarding attained sharpness, but it´s obvious that the distortion correction doesn´t match the brutal perfection of the non retrofocus ultra wideangles designs or its level of excellence for the carrying out of architectonic photography.


It´s a full-scale demonstration of power and something utterly revealing from the optical viewpoint, that the marvellous Zeiss biogon 38 mm f/4.5 non retrofocus lens for 6 x 6 cm medium format goes on being - having elapsed more than fifty years since its appearance- the second best medium format super wideangle lens in the world, only slightly beaten by the fabulous super wideangle Mamiya 43 mm f/4.5 L with external finder of the extraordinary Mamiya 7 rangefinder, though it´s important to highlight that this Japanese lens follows the original 10 elements formula of the Biogon.


And of course, the Hasselblad 903 SWC makes up a deserved latent homage for two of the most brilliant optical designers in history: Ludwig Bertele and Hans Sauer, authentic guiding spirits of the Zeiss Biogon 38 mm f/4.5, a dream lens with more than half a century of life and virtually impossible to beat, already in the XXI century, with the most up-to-date technologies and extreme design optical glasses.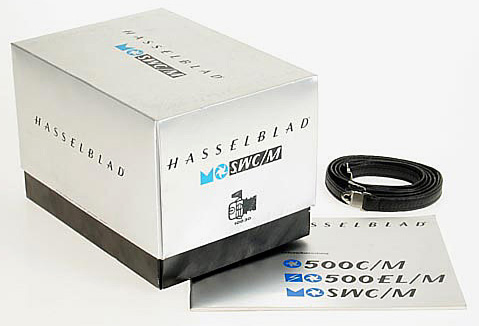 Camera:

Hasselblad 903 SWC non reflex, with super wideangle Zeiss Biogon 38 mm f/4.5 lens, equivalent to a 21 mm in 35 mm format.


Focusing:

Manual.


Shutter:

Synvhro-Compur or high end Prontor, both of central synchronization and located inside the Zeiss Biogon 38 mm f/4.5 permanently attached to the camera body. It can synchronize with flash at all speeds between 1 sec and 1/500 sec.


Weight:

1325 g the camera body with the A-12 film back.


Dimensions:

145 x 112 x 150 mm the camera body with lens and A-12 film back.


Types of camera finish:

Available in chrome and black colour, it comes with optical viewfinder, carrying strap and rear protective covers.


Film advance:

Completely manual, by means of foldable winding crank, simultaneously making both the shutter cocking and the film advance.
Compatibility with the Hasselblad system: It accepts all the film backs made for the rest of Hasselblad cameras.


Camera body:

Totally made as a one piece block of high quality cast aluminium alloy.


Film Format:

6 x 6 cm and 6 x 4.5 with different film backs.
Angle of view of the lens: 90º diagonally and 72º horizontally.


Type of mount:

60 mm front bayonet mount.
Minimum focusing distance: 30 cm.


Viewfinder:

Connectable optical viewfinder, with built-in spirit level and internal magnifier allowing the reading of the different scales of the Zeiss Biogon 38 mm f/4.5.
There´s also available a focusing screen adapter, which is attached to the camera in the same way as the film back, and whose goal is to check the picture composition and the depth of field. This adapter is used along with a focusing hood or with a prism finder, with or without meter.
Types of film admitted by the camera: 120 and 220 film rolls, perforated 70 mm film and Polaroid film.
© Copyright José Manuel Serrano Esparza