BARCELONA 69 - ESTUDIANTES 64
Spanish ACB Basketball League: F.C.Barcelona becomes champion before a great Estudiantes in the fifth playoff game
Text and Photos: José Manuel Serrano Esparza
Palau Blau Grana (Barcelona)
13-6-2004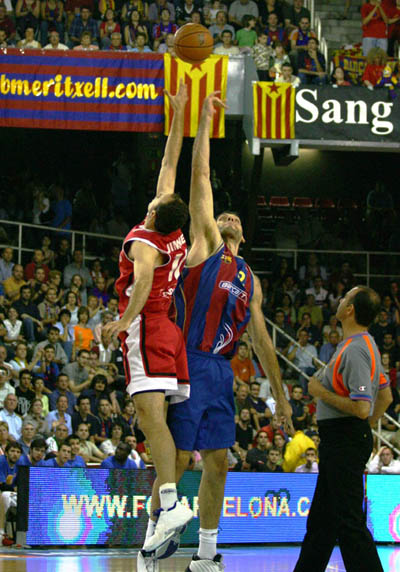 Initial jump between Carlos Jiménez and Roberto Dueñas.
Technical Card
Barcelona 69 (24+9+11+25): Ilievski (6), Fucka (8), Bodiroga (14), Navarro (11),
Dueñas (9) - starting lineup- , Femerling (1), De la Fuente (17), Grimau (3), Drejer (-)
y Nacho Rodríguez (-).
Estudiantes 64 (11+13+19+21): Brewer (9), Reyes (13), Jiménez (12), Jasen (2), Iturbe (7) -cinco inicial- , Loncar (6), Azofra (5), Patterson (8), Rodríguez (2).
Referees: Sancha, Martín and Pérez Pizarro. They excluded by five personal faults to Roberto Dueñas (m. 39), Nacho Azofra (m. 40), Gregor Fucka (m. 40) and Iker Iturbe (m. 40), while Corey Brewer and Vlado Ilievski got disqualifying technical foul because of mutual aggression also in the m. 40.
The match was disputed at the Palau Blau Grana (Barcelona), completely crowded with 8,000 spectators.
F. C. Barcelona turned into Champion of the Spanish ACB Basketball League 2003-2004 after beating Estudiantes through a tight 64-69 final score, in a match in which the team from Madrid was about to set the bells ringing and to win the title.

8,000 spectators watched live a full-fledged titanic clash in which the common denominator was a no quarter fight for every ball and a superlative tension that was rising as the end of the contest came to an end.

The suspense was top, since Estudiantes had been on the point of passing judgment on the League (it lost the first playoff match at Palau Blau Grana by the narrowest margin of a point (79-78), the second one -also held in the Ciudad Condal- by six points (80-74) and it had clearly dominated the third and fourth games played in Vistalegre Pavilion (82-72 and 85-68 respectively).

F.C. Barcelona entered the court full-swing with a hugely aggresive defense -specially on Loncar and Felipe Reyes- and after two baskets by Roberto Dueñas and one by Dejan Bodiroga, it went ahead 6-0 in the score.
This F.C Barcelona hyperardent defense had an effect on Estudiantes and only the self-control and clever actions of Carlos Jiménez (through smart penetrations and wise selections of shots) prevented Barcelona from setting up an unsurmountable difference of points.

The Estudiantes élite shooter Nicola Loncar, Felipe Reyes and Vidaurreta appeared fidgety and lacking accuracy in attack and nacho Azofra, aware of what was coming down on them, grinned and bore it in defensively, doing his best to steal balls and trying unsuccessfully to mount quick fast breaks so as to break the match tempo.

The blaugrana coach Svetislav Pesic outlined a game whose epicenter was an utterly strong defense on Estudiantes most resolving men and tactical and static attacks held up above all on the huge class and scoring power of the world crack Dejan Bodiroga and Juan Carlos Navarro.

And this was one of the key factors in the game, because F. C. Barcelona would have taken a serious risk if it had posed a give-and-take match, full of speed and frantic pace against Estudiantes, undoubtedly the most heary, full-bloodied and able to literally die on court squad in all the history of Spanish basketball.

In minute 8´, after two straight three pointers hit by Rodrigo de la Fuente and Dejan Bodiroga, the local team reaches a lead of twelve points (18-6) and soon after, another three pointer by Rodrigo de la Fuente enlarges the distances up to 14 points (23-9), the first quarter finishing with 24-11 favourable to F. C. Barcelona and a dominance of the tandem Dueñas/Fucka under the boards. Estudiantes is being overcome in the rebound by a F. C. Barcelona whose starting lineup has got a height average around 2, 08 m, with men like Roberto Dueñas (2, 20 m), Fucka (2, 14 m), Femerling (2,15 m) and Dejan Bodiroga (2, 05 m).

But Estudiantes coach Pepu Hernández doesn´t throw in the towel. He´s realized that they´ve lost 7 balls and have had a meager percentage of 28% of effectiveness in field goals (10 from 14).

This way, a raged Estudiantes begins the second quarter with a knife between teeth, suddenly changing to zone defense, which takes by surprise to Svetislav Pesic and blaugrana players, to the extent that during the first seven minutes of this second quarter, F. C. Barcelona only scores two points by Roberto Dueñas.

However, Estudiantes goes on missing a lot of shots (its main Achiles heel during the match) and it only manages to reduce the difference up to seven points in the minute 17´ (26-19).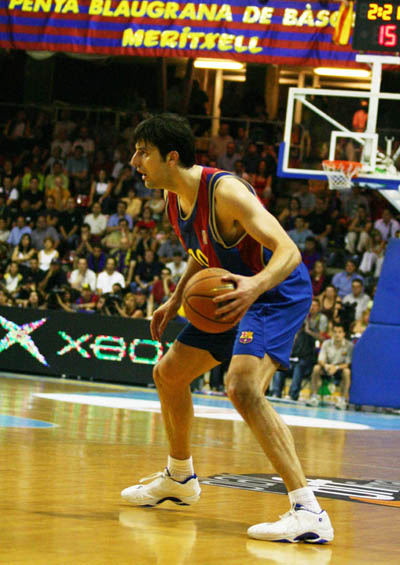 Dejan Bodiroga performing as a playmaker and looking for the best located teammate to assist.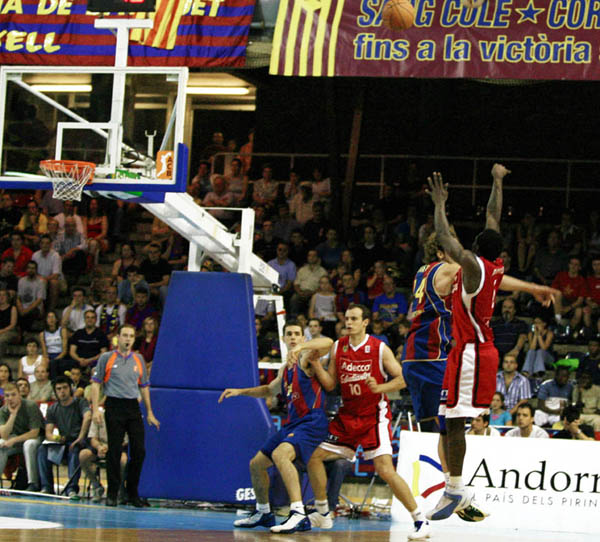 Corey Brewer scores a three pointer jumping shot, defended by Grimau.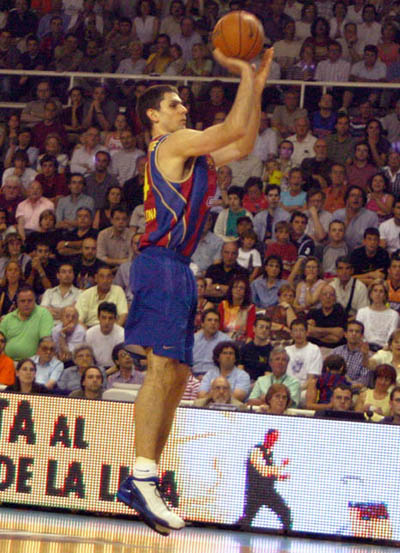 Jumping shot by Rodrigo de la Fuente, the most accurate attacking player of F.C. Barcelona together with Dejan Bodiroga and Juan Carlos Navarro.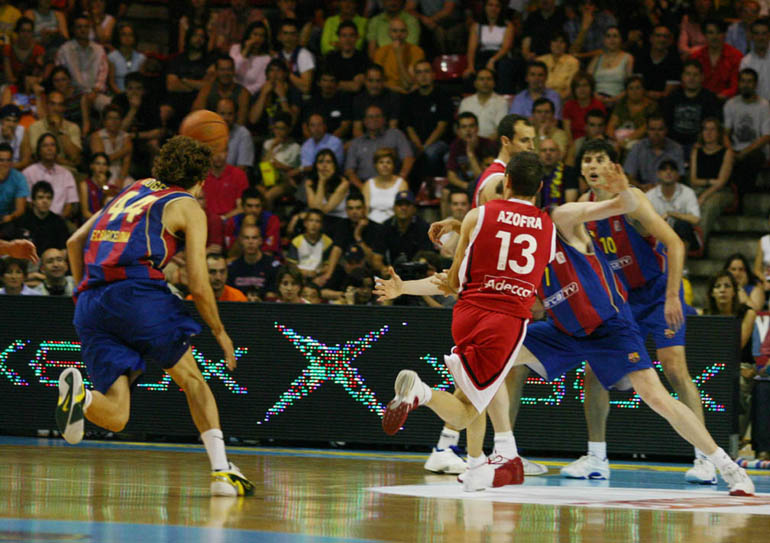 Quick fastbreak of nacho Azofra, who after dribbling Roger grimau, feigns penetration into the rival zone (attracting Fucka´s defense on him) so as to finally assist Nicola Loncar (out of image).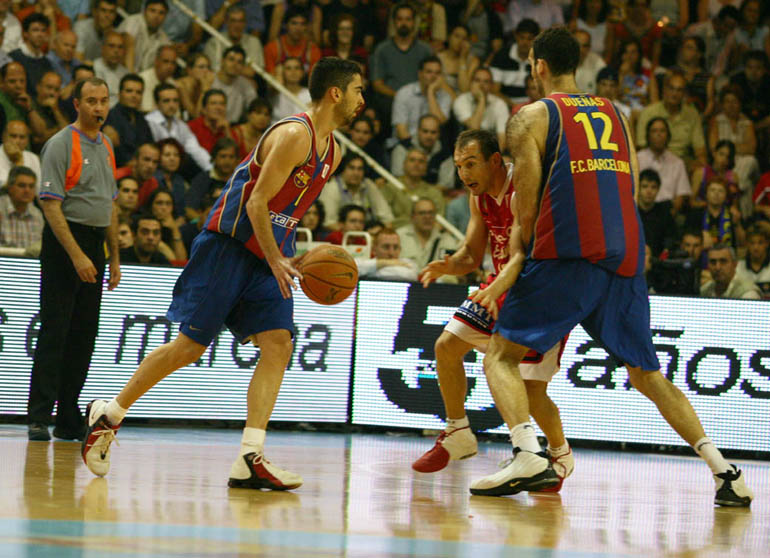 Juan Carlos Navarro gets ready to start a fairly fast penetration into Estudiantes basket, being supported in the blockage by Roberto Dueñas, who tries to prevent Nacho Azofra from arriving defensively on time.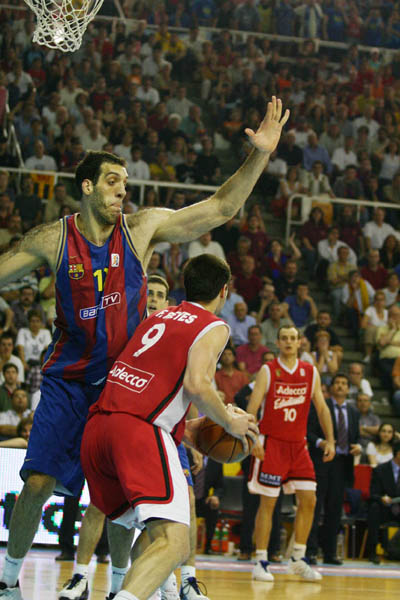 Felipe Reyes tries to score into the F. C. Barcelona basket, hindered by the defense of blaugrana giant Roberto Dueñas.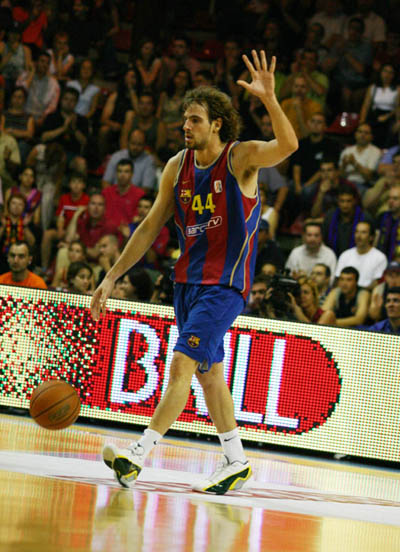 Roger Grimau indicates a specific play to the rest of squad mates in a moment of the match.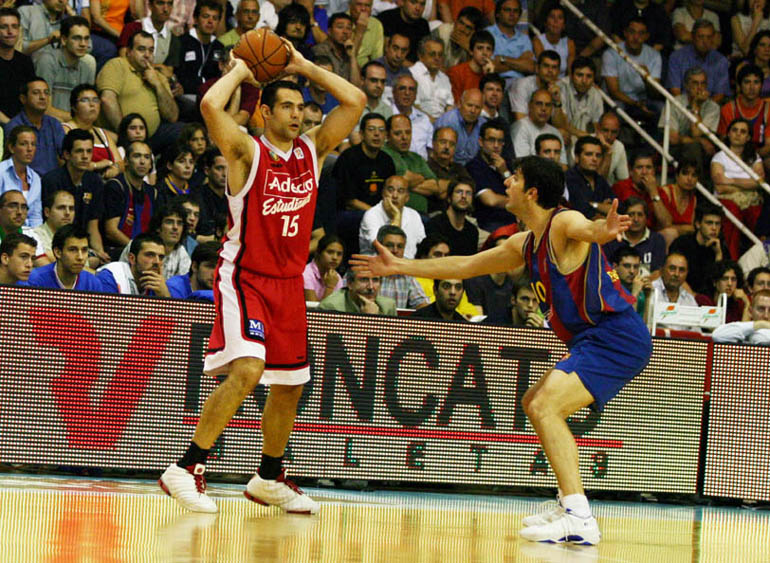 Iker Iturbe, power-forward/center of Estudiantes, searches for a teammate to send him a pass, while being defended by Dejan Bodiroga.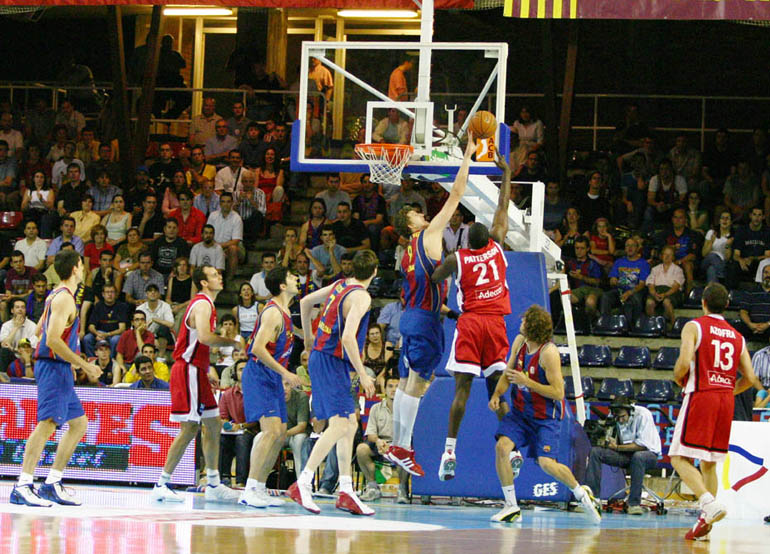 Impressive defensive action by Femerling, blocking an Andrew Patterson´s hook.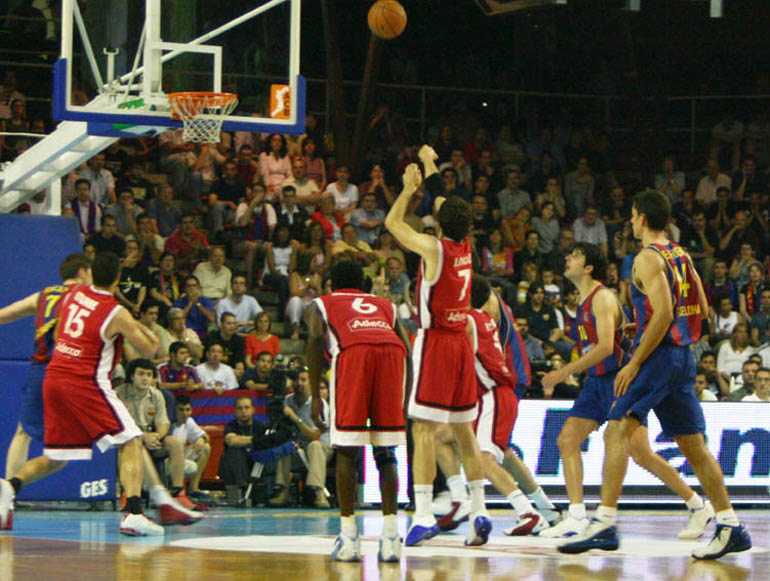 Nicola Loncar, who didn´t make his day, scoring a free throw.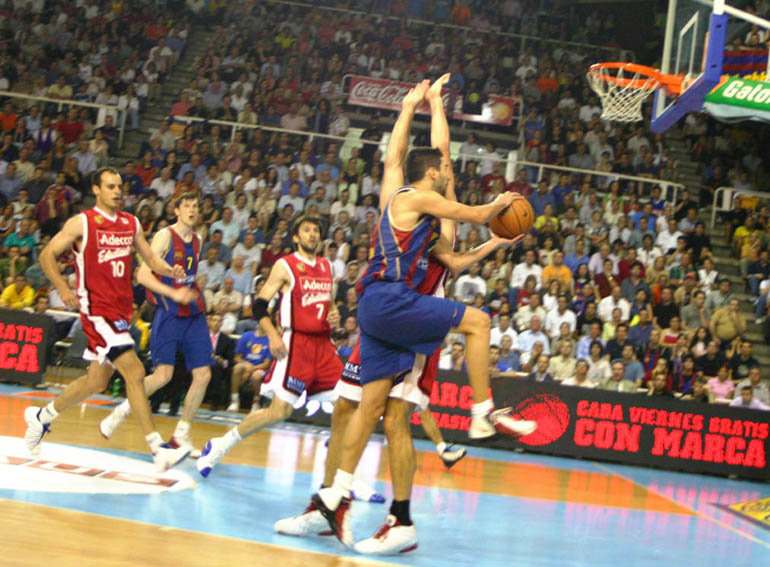 Flashing penetration into basket by Juan Carlos Navarro, who is compelled to achieve a great leap to avoid Iker Iturbe´s defense.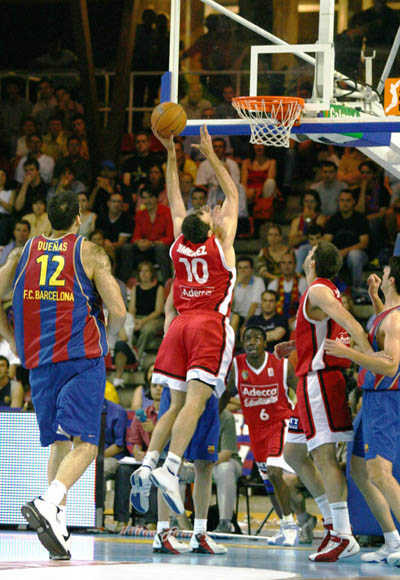 The tremendous jumping ability of Carlos Jiménez lets him catch an attack rebound and score a basket, propping up the ball on the board.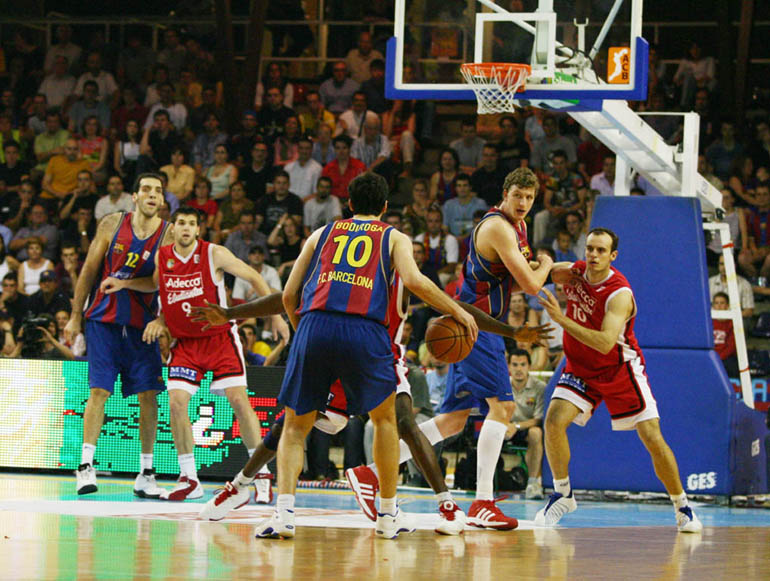 Dejan Bodiroga makes Estudiantes center Andrew Patterson go out to try blocking his possible shot. It imposes a reshaping in the defense of the team from Madrid., in which Carlos Jiménez is to cover Femerling while Felipe Reyes has to defend Roberto Dueñas.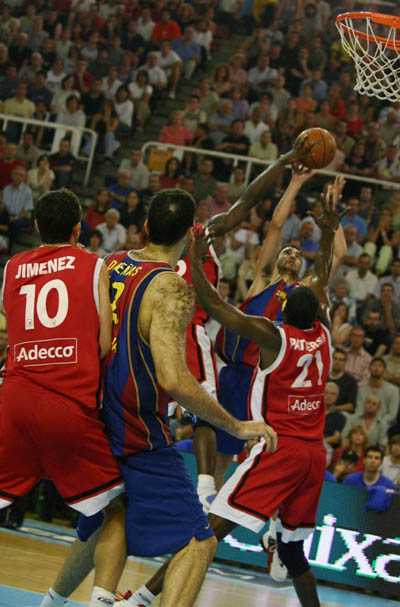 Corie Brewer accomplishes an extraordinary defensive help backing his teammate Andrew Patterson, blocking a Juan Carlos Navarro´s shot at the last moment.
But once more, Dejan Bodiroga does take the reins and scores a three pointer and after a two point basket by Rodrigo de la Fuente - who worked out a great performance- , Barça went to half time being ahead 33-24.
Incredibly, Estudiantes, which until that moment - due to its precision lack in attack- had been bound to utterly strive in defense, trying to avoid that the blaugrana squad went away definitively in the score, begin to stake everything in the third quarter, determined to break the game, with a vast faith in themselves and a fighting capacity on the boundary of exhaustion, full-blast, both in defense and in attack.

And it pays off: two three pointers by Corey Brewer and another one by Iturbe even up the match (39-39) in minute 37´.

The game gets dramatic hues and the stress becomes enormous, for there is a huge equality on the parquet and neither team can break the match, the third quarter final coming upon with a blaugrana lead of a point (44-43).

There are twelve minutes left to know which will be the ACB 2003- 2004 Basketball League Champion team and it´s impossible to make any forecast at this moment, because Estudiantes has dug up tomahawk and both the gaze and attitude of their players reveals that they are ready - for the nth time through their history- to strugle for survival. They do know that they can win the Championship and the paroxysm also gets up to the bleachers, where the ´Demencia´, mythical Estudiantes group of fans, are boosting the Ramiro team, hoisting their banners and singing their battle hymns.

The fourth and final quarter is about to begin and the supporters of F. C. Barcelona have realized the danger that menaces their squad, so they start cheering up deafeningly F.C. Barcelona. The appearance of the court is absolutely showy, crowded with flags, escutcheons and handmade placards backing F. C. Barcelona.
We had been for a long time without living a game with this tremendous emotional intensity, both on court and on the bleachers.

Svetislav Pesic, fairly experienced in a lot of battles as a player ( European Champion in 1979 with that wondrous Bosna of Sarajevo of Mirza Delibasic, Radovanovic, Varagic, Vucevic, Pesic, Izic, Hadzic, Benacek, etc, against Emerson of Varese of Dino Meneghin and Morse - to whom they defeated with an extraordinary display of long distance shooting- , Champion of Yugoslavian League in 1982-83, Champion of the Cup of Yugoslavia in 1983-84) and as a coach (four consecutive times Champion of the German League with Alba of Berlin between 1996 and 2000, twice Champion of the German Cup in the 1996-97 and 1998-99 seasons, European Champion as Germany coach in Germany 93´ , European Champion with Yugoslavia in Turkey 2001´, World Champion with Yugoslavia in Indianapolis 2002, ACB Champion League and Euroleague Champion 2002-2003 with F. C. Barcelona) had never seen a team fight in the same way as Estudiantes is doing. It´s a new situation for him.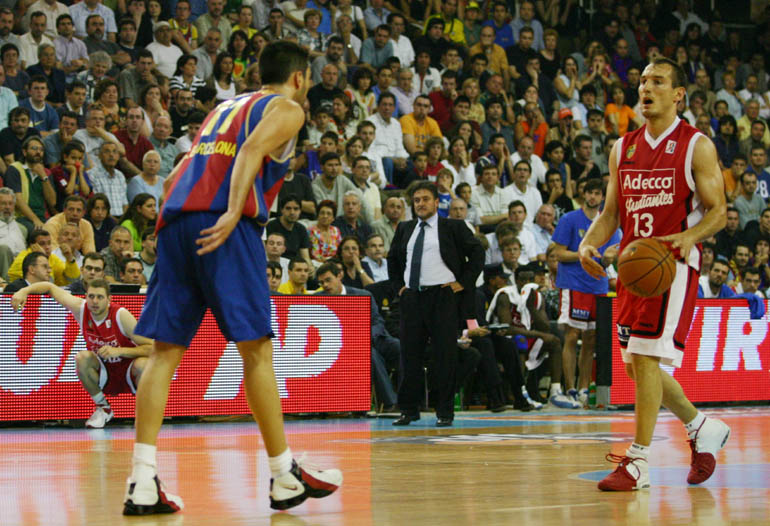 Nacho Azofra commanding Estudiantes attack, guarded by Juan Carlos Navarro.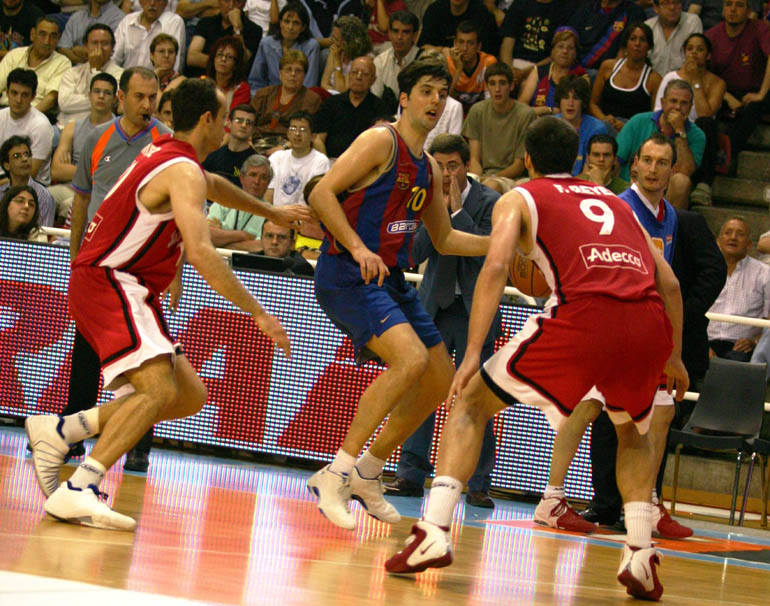 Carlos Jiménez and Felipe Reyes make two on one near a sideline on Dejan Bodiroga.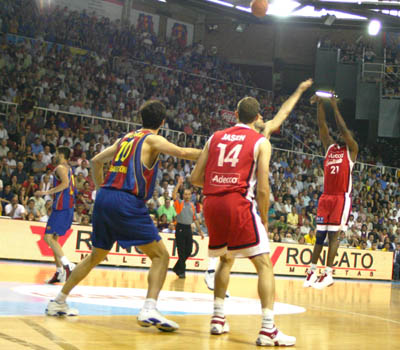 Three pointer by Andrew Patterson at the height of crunch time. In the background, you can see Juan Carlos Navarro limping visibly. The great blaugrana shooting-guard gave a lesson of courage and competitiveness, playing injured for the last two quarters of the game.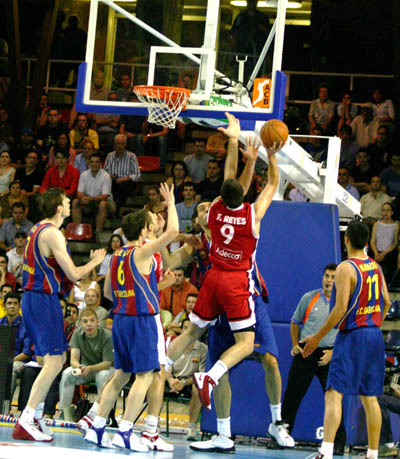 Shot propping up the ball on the board by Felipe Reyes. The
always menacing presence of Roberto Dueñas compels him to force himself his utmost both in the skip and the stretching of his right arm.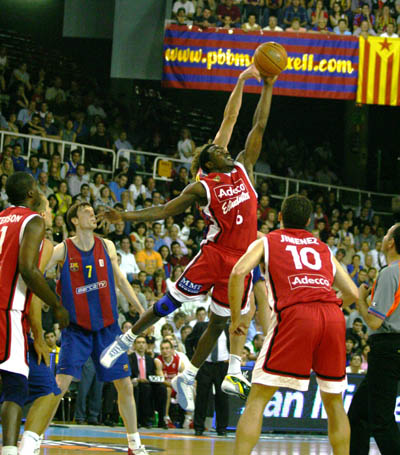 Corie Brewer anticipates Roger Grimau, intercepting a F. C. Barcelona high pass. Pay attention to the amazing jump by both players.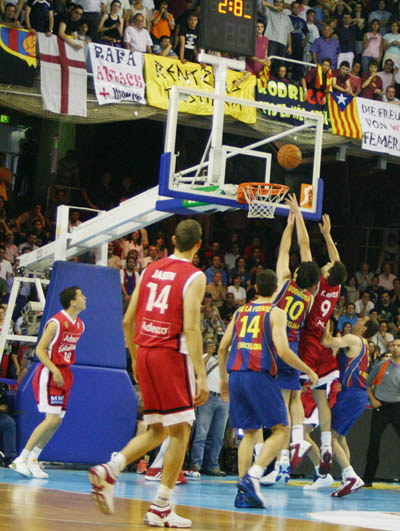 Dejan Bodiroga and Felipe Reyes quarrel for a rebound under Estudiantes basket.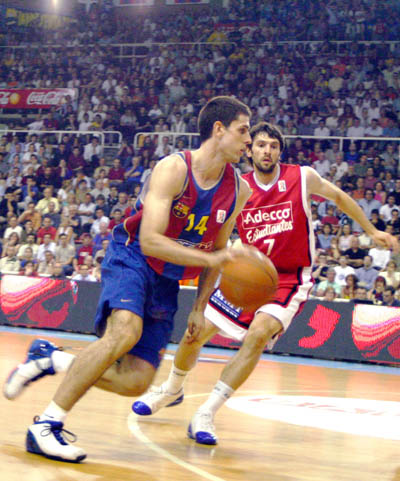 Swift penetration into basket by Rodrigo de la Fuente, overcoming Nicola Loncar´s guarding.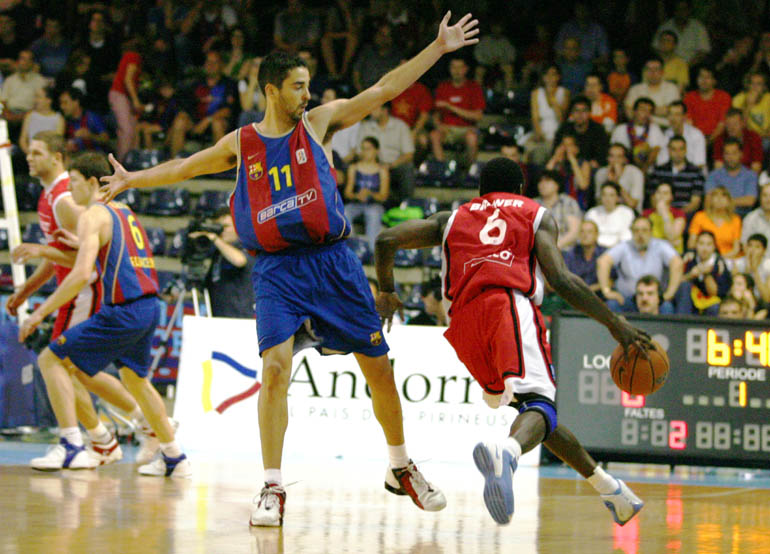 Corie Brewer dribbles Juan Carlos Navarro and races into blaugrana basket.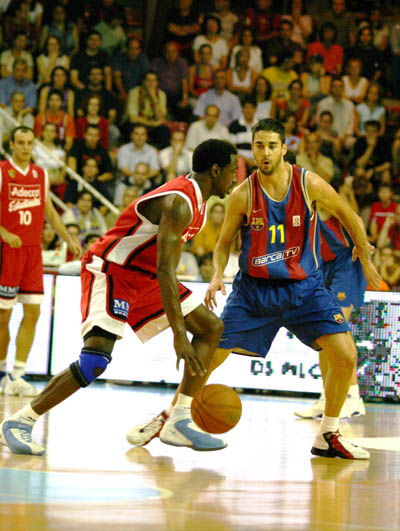 Once again, Corie Brewer and Juan Carlos Navarro, face to face. This duel was steadfast during the whole match.
He seems to be very thoughtful and nervous. Estudiantes, albeit on the brink of exhaustion, is mentally very ill. The steals by Nacho Azofra (certainly heroic his behaviour and attitude) make up a clear menace, together with the possibility that the Serb Nicola Loncar awakes from his scoring lethargy. And if it wasn´t enough, Felipe Reyes, Iturbe (excellent his improvement and versatility letting him currently to play at a very high level both inside the paint and from the perimeter) and Carlos Jiménez are fighting as lions under the boards, securing the defensive rebound and capturing some important caroms in attack.

The strenuous effort by the quoted players of Estudiantes is making possible a greater freedom of action and accuracy in the medium and long distance shots by Corey Brewer and Andrew Patterson.

Pesic has become aware of the fact that in spite of having held sway over the match with a suitable planning, he can lose the championship. F. C. Barcelona has made an outstanding defensive match, keeping a good attacking level, but the Estudiantes untamable struggling spirit is breaking every scheme.

The Yugoslavian coach has to think very fast and he realizes that his main choices are two:

a) Strife to death as a team against Estudiantes for the remaining twelve minutes until the end of the match, with the court factor and the support of the spectators, in order to create a frenzied pace and environment which intimidates Estudiantes.

Pesic rejects this planning, since Estudiantes is a very experienced squad in this kind of pitched battles, so the risk would be huge if a high number of blaugrana players assume scoring responsabilities.
b) Playing with as much serenity as possible, keeping their head and running out wholly the times of ball possession. Unavoidably, the question arises, Which F. C. Barcelona player is able to keep his cool even getting to enjoy the game in the crunch time with huge cold blood? And there aren´t many doubts for the answer: Dejan Bodiroga, the present Yugoslavian most determinant player, along with the NBA de luxe gunner Phedrag Stojakovic.

Pesic keeps very recent in his memory the two consecutive frontal three pointers with the defender literally over him that Dejan Bodiroga scored against Argentina in the Indianapolis 2002 World Championship, when the plavi team was down in the score. He calls the Yugoslavian crack and orders him to perform as a playmaker for the rest of the match, with a clear premise: to slow down the play to the utmost, finishing up as much as possible the 24 seconds of ball possession and above all to attain a good selection of shots for his teammates, with the decisive shots being thrown by him if the matter becomes serious.

The last quarter begins with two three pointers by Bodiroga and one by Juan Carlos Navarro (54-48), that are replied in Estudiantes through two three pointers by Andrew Patterson and another one by Azofra.

The play unfurls at a slow cadence and Estudiantes can´t put into practice their lively basketball, founded upon the defense and counterattack, on the quick playing.

Dejan Bodiroga has definitively taken control of the match and he forces Estudiantes into exerting steadfast two on one against him (specially with Loncar and Felipe Reyes), which makes easy the attacking work by J. C. Navarro and Rodrigo de la Fuente above all.

Pepu Hernández screams at the top of his voice, giving instructions to his men so as to try to stop Bodiroga. But the problem hasn´t got a solution: the 2, 05 m tall and 106 kg Yugoslavian crack is too big, skilfull and experienced and displays technical grounds rather inherent to a top-notch point guard, besides featuring an exceptionally accurate medium and long distance shot. If an Estudiantes center approaches him to block the possible outer throwing, Bodiroga will dribble him easily and if in turn is a forward or guard who tries to stop him, Dejan will shoot with utter convenience thanks to his much bigger height and weight. Furthermore, the plavi crack is both a consummate master in the use of the body and feints to overwhelm his defenders and a terrific passer.

Minutes tick away and F. C. Barcelona, with great difficulty, achieves to continue having the lead in the scoreboard, with differences between two and four points, until at nine minutes to go, Estudiantes manages to level the game (46-46).
Bodiroga forces out the engine and nails a vital three pointer with Loncar on him. The match reaches its maximum tension until that moment, with all the players knowing that from then on any play can be decisive for the denouement of this fifth and last playoff game.

Both teams appear very wary and fearing any possible errors in the passes or innaccurate shots, until Rodrigo de la Fuente breaks ultimately the match with a trhee pointer that lets loose the craze among the blaugrana supporters.

But Estudiantes don´t surrender. They go on fighting and compel F. C. Barcelona to a maximum concentration and to use the penetrations by Juan Carlos Navarro - who forces personal fault and two free throws which scores- and the inner assists to the center Femerling (that also forces personal fault and two free throws, making one of them).

It´s the end. F. C. Barcelona wins the game 69-64 and becomes brilliant ACB League Champion against a very strong Estudiantes, which have been on the point of winning the title.

On the bleachers, there is a great sporting atmosphere, with both F. C. Barcelona and Estudiantes fans who carry on encouraging their squads.

We have just been witnesses of one of the most incredible matches through all the history of Spanish basketball.

Rodrigo de la Fuente receives the Cup of ACB League Champion and Dejan Bodiroga picks up his MVP of the Final Trophy and immediately afterwards, all the blaugrana players hug one another.

Shortly afterwards, a sobbing Nacho Azofra - in the same way as other teammates- lifts up the trophy endorsing Estudiantes as ACB League Subchampions, among the bursting into applause and acclaims from both the ´Demencia´ and the F. C. Barcelona spectators, who have known to appraise the huge endeavour and merit of a plethoric Estudiantes, which have made to shoot up the interest for Spanish basketball in the good fans of this sport and that with their sacrifice, good playing and plentiful array of defensive and offensive schemes have taken a main role in an exploit that will make history.

The utterly special circumstances of this Final (the very Svetislav Pesic declared at the end of the game that this had been the most difficult victory in his whole sport career) make even more valuable and deserving this triumph of F. C. Barcelona and its subsequent proclamation as Champion of the ACB League 2003-2004.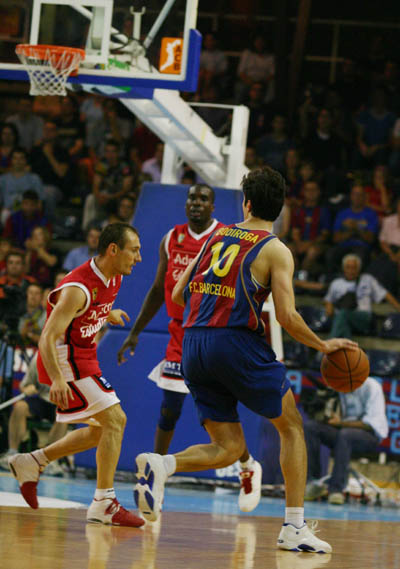 Another two on one against Dejan Bodiroga. Nacho Azofra is pressing the Yugoslavian crack, trying to steal the ball from him or obstructing the passing line, while Andrew Patterson is heedful in case the defensive help is necessary in order to avoid Bodiroga´s shot.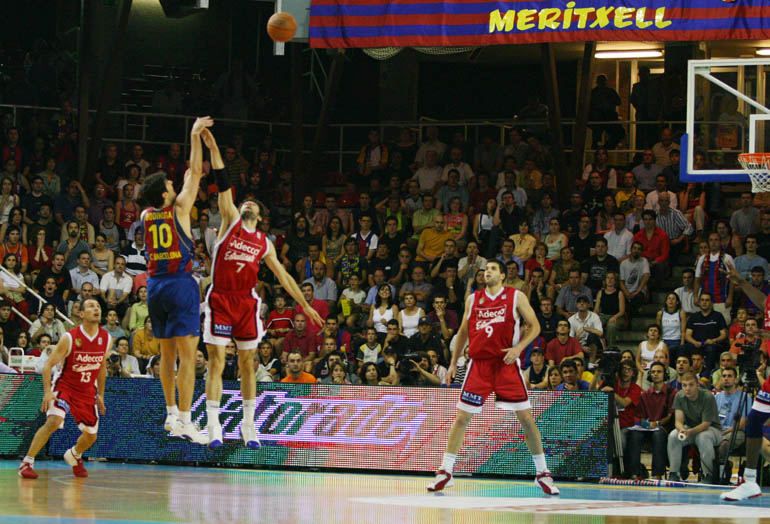 Impressive three pointer by Dejan Bodiroga in the crunch time. The action involves a remarkable merit, since defense by Loncar is very good. Meanwhile, Nacho Azofra and Felipe Reyes, expectant, watch the play.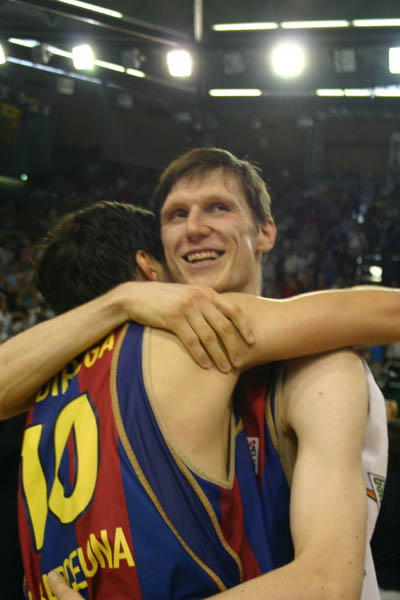 Dejan Bodiroga and Gregor Fucka hug each other at the end of the game.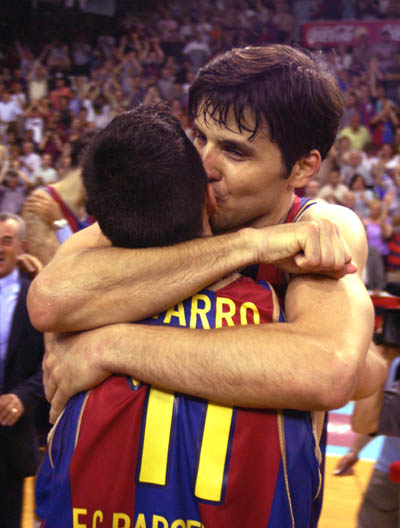 Embrace between Dejan Bodiroga and Juan Carlos Navarro.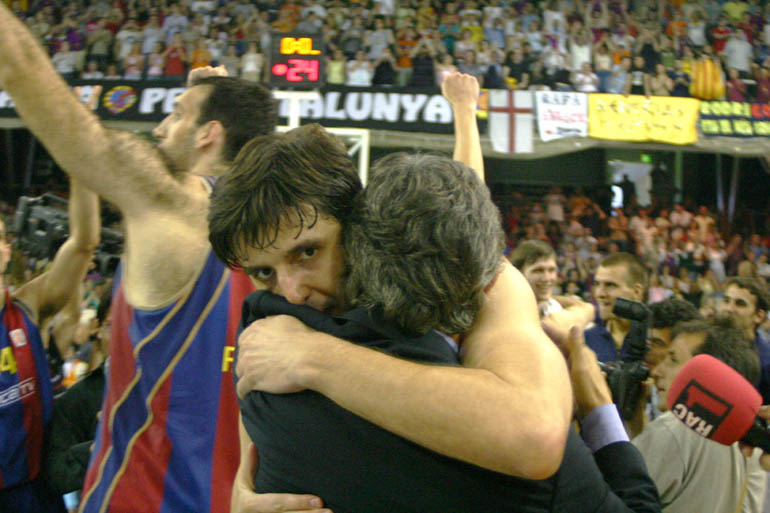 Warm hug between Dejan Bodiroga and Svetislav Pesic. The face of the Yugoslavian crack reflects to what extent they have been on the brink of defeat.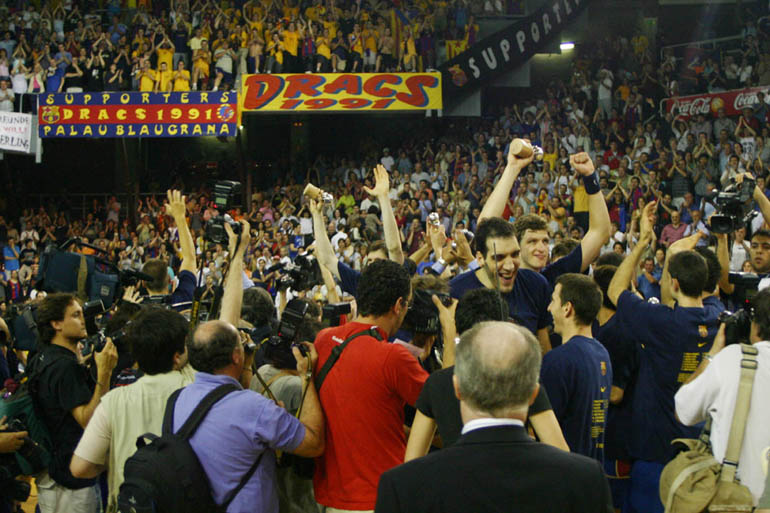 F. C. Barcelona is the Champion of 2003-2004 ACB Spanish League. The players are hailed by the thousands of blaugrana supporters.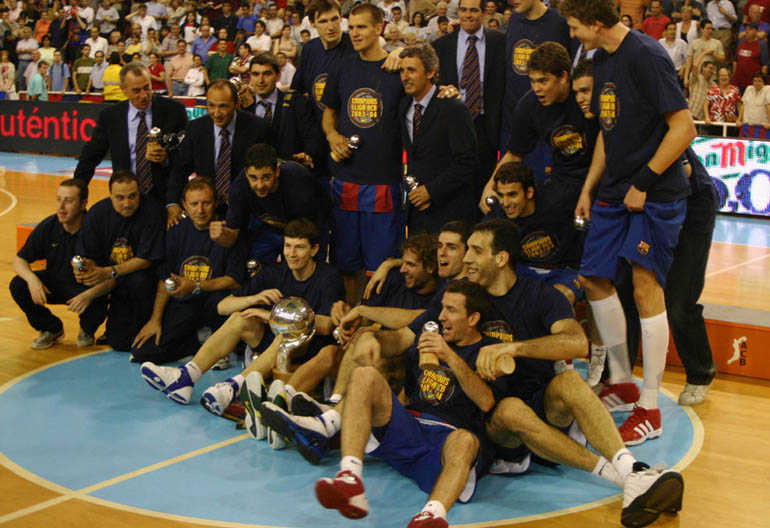 F. C. Barcelona team pose as a Champion of the 2003-2004 ACB Spanish League.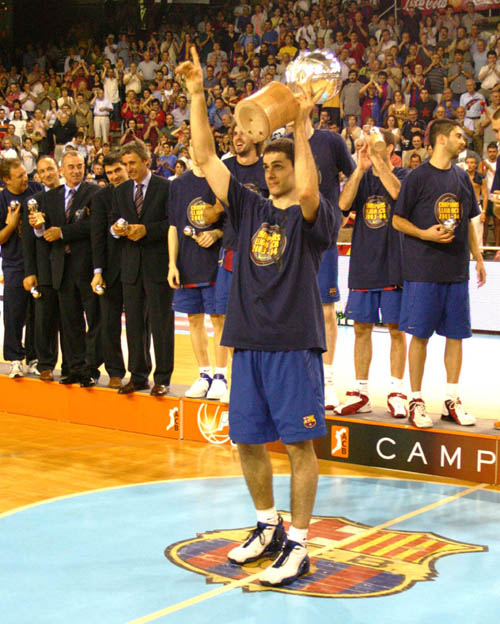 The blaugrana captain Rodrigo de la Fuente hoists the 2003-2004 ACB Championship Cup.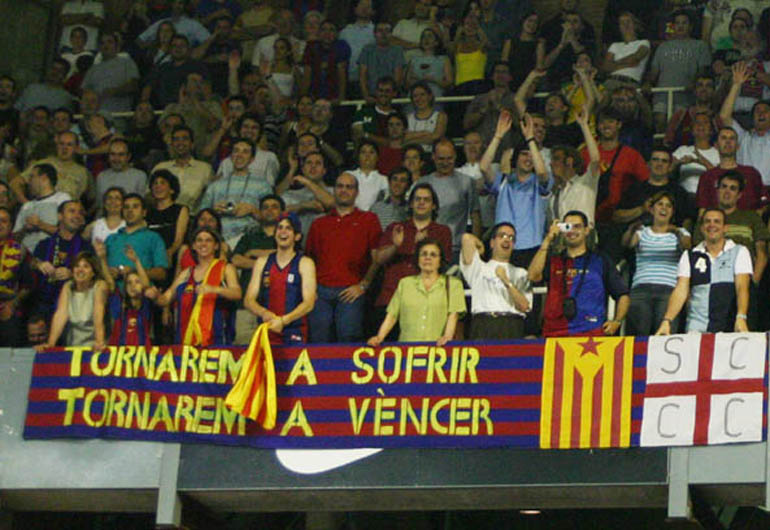 The blaugrana supporters attended en masse at the Palau Blau Grana to boost their club, literally sowing the bleachers with placards supporting Barça.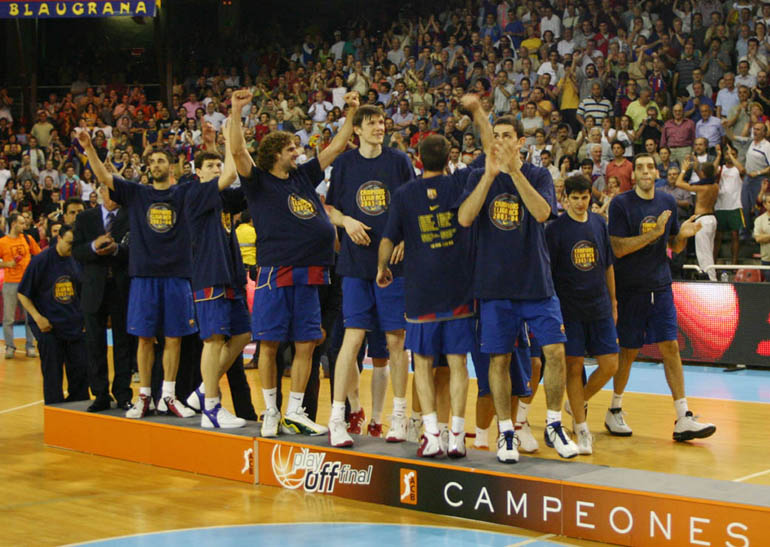 The players of F. C. Barcelona climb up to the podium as brilliant 2003-2004 ACB Basketball League Champions.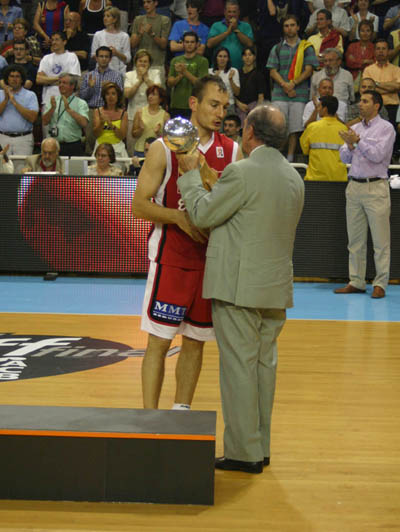 Nacho Azofra takes the trophy endorsing Estudiantes as 2003-2004 ACB Basketball league Subchampions.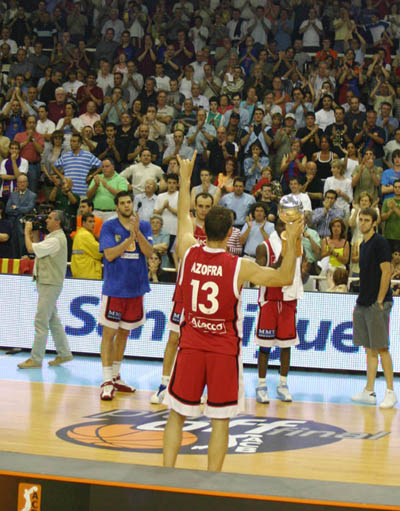 Nacho Azofra, with the trophy in his hand, greets the mythical ´Demencia´,while he is applauded by every spectator, aware of the Estudiantes epopee.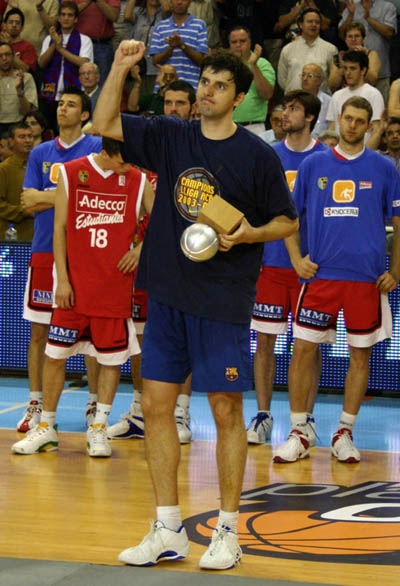 Dejan Bodiroga has just received his MVP Trophy as the most valuable player of the Final.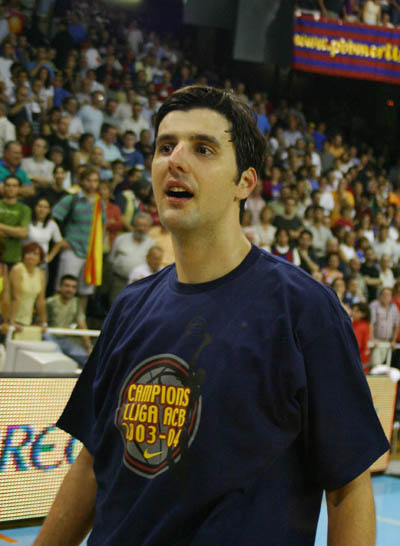 Dejan Bodiroga, happy because of the great triumph he has just attained, probably the most difficult and wrought in all of his sport life span.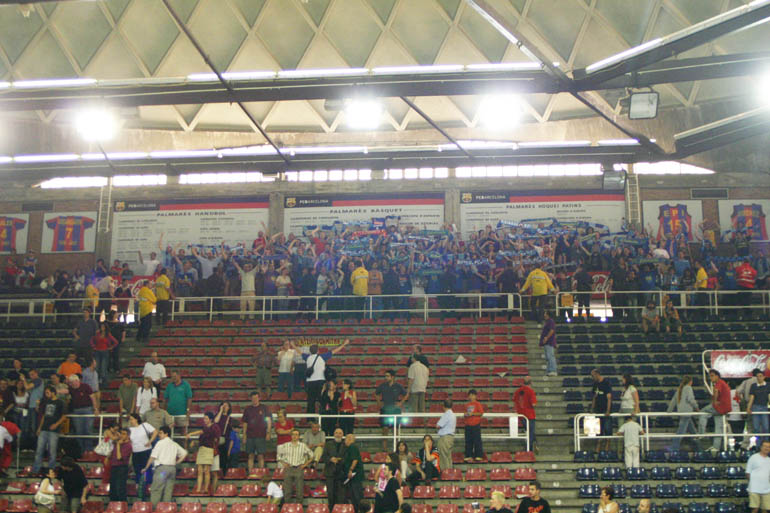 The ´Demencia´ awaited immovable on the bleachers more than forty minutes after the match, until their players entered the court again to get for the nth time their unconditional support.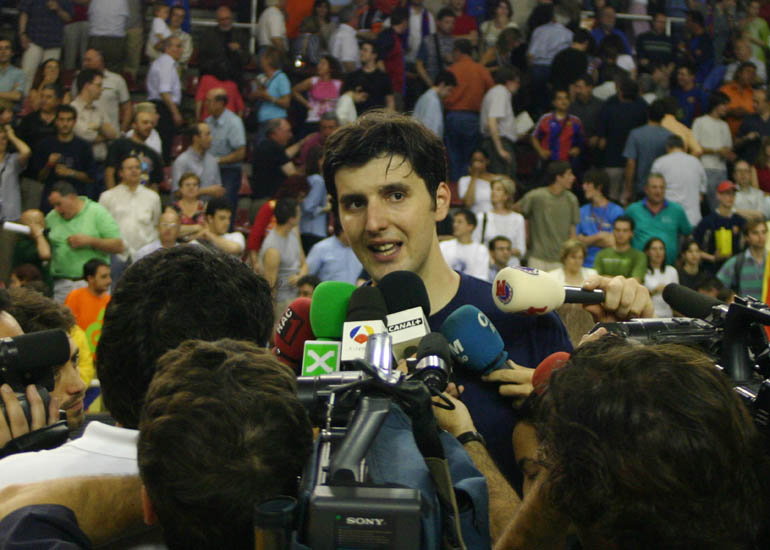 An exhausted Dejan Bodiroga speaking to the mass media at the end of the game.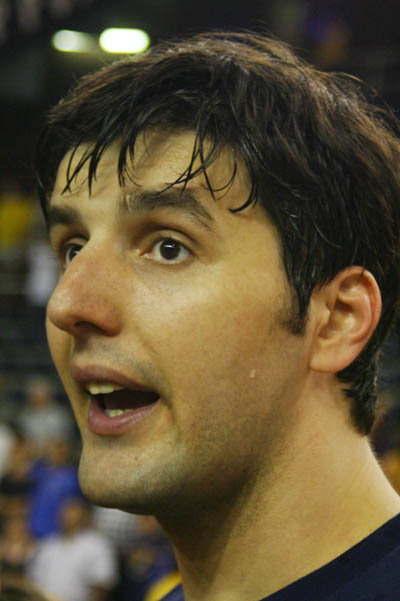 Dejan Bodiroga, a NBA level crack in the Spanish basketball and
undoubtedly the most unstoppable basketball player in all the history of ACBtogether with the missed extraterrestial from another planet Drazen Petrovic and the current 2, 16 m Memphis Grizzlies (NBA) power forward/center Pau Gasol.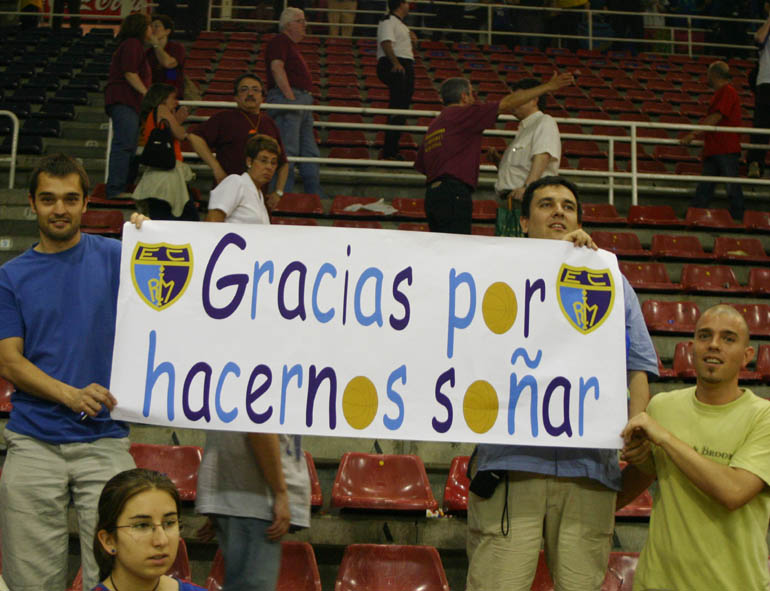 An hour has elapsed since the end of the match and some Estudiantes fans show proudly a placard with the inscription ´Thank you for Making Us Dream´.They know that they have been about to take a main role in an incredible feat. In fact, the sphere of the basketball sport, both at a national and international level, became astonished at the indomitable fighting spirit of Estudiantes.
© Copyright Text and Photos: José Manuel Serrano Esparza